Krylon's Looking Glass Spray Paint
for years now, and after searching all over, I finally found some at
Walmart
of all places. I had never even thought to check there! The first time I saw this stuff it was on Carol Duval's show on HGTV, so that tells you how long I've been wanting to try it! Do you guys remember that show? I miss seeing Carol on TV, and all her wonderful projects!
During our town wide Yard Sale, I picked up these two patterned (faceted) glass bowls, both for under $5.00 each. Wahoo! Love that price! What's great about these pieces is that they have wide openings, and the base is hollow, perfect for "Mercurizing", as I like to call it!
Krylon Looking Glass Spray Paint
.
See what I mean, they have the perfect luster to them!
Now you can fill them with what ever you like... sparkly things look especially nice!
I hope you'll give it a try, it was super fun and easy. These types of bowls can often be found in thrift shops and flea markets, so they shouldn't be too hard to find. You can find
more info about this product
, along with
other project ideas
, on the
Krylon
web site
.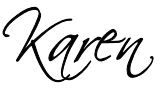 *This post contains affiliate links