A very wonderful day to everyone. The Holiday Season has officially begun! Next Saturday marks the first day of Advent, so our little project today is an Advent Calendar that anybody can make. Most of you have what you need right at home. We even have all of the gorgeous Graphic Fairy vintage images re-sized and ready for you to print and punch. So let's get started.
For this project you will need:
Card Stock
a printer
(not to worry...you can do this project easily without the wooden circles...
just print your images on card stock and use a punch...it works perfectly!)
ribbon or twine
Glitter
a brush
Simply print out the two sheets of images onto nice cardstock
and take your nifty punch and pop out all of the images...a scissors works just as well...just takes a little bit longer!
Now just take your brush...smooth some Mod Podge on the circle (edge to edge) and place the image on top of the circle and smooth it...let dry.
For those of you that are creating your Advent Wreath card stock there is no step necessary here.
This is the time that you take your nifty little drill out and drill two holes at the top of the wooden circles or for those of you that are using card stock...simply take your hand punch and punch your holes at the top for threading. Let me tell you one thing...I thought that I might be able to do it with one hole...NO!!!! It did NOT work...so please don't make my mistake and use two. Then if you want a little glitz...brush some Mod Podge on the edges and roll in glitter. You can do the same for card stock...works like a charm. Since you have your glitter out...if you would like you can brush some Mod Podge on to the tip of the little clothespins and dip. Glitter is not needed but it is fun and adds a festive glow.
Then you simply glue your clothespin to the back of your circles with just the tip showing...perfect for clipping those kisses on!
ASSEMBLY REQUIRED!!!
Simply thread your ribbon or bakers twine in and out of the little holes...clip your kisses on and then hang in a special place...perfect for a mantle but make sure it is not too close to the fire...those kisses will melt! You might like to make little envelopes to clip to each day with a special note...or hang another favorite candy...let your imagination go wild. The result is fun and the project is so easy you will want to make a few for family and friends.
So there you go! Hope you enjoyed this little project...made possible by the amazing
variety of vintage images that our friend Karen (aka...The Graphics Fairy) has collected for us and shared!
Thank you for joining me and if you would like to visit...I am always hanging out at
Here are your images...we have provided them with numbers for the Advent Wreath and also plain...they are perfect for little gift tags so print as many as you like and most of all...have fun!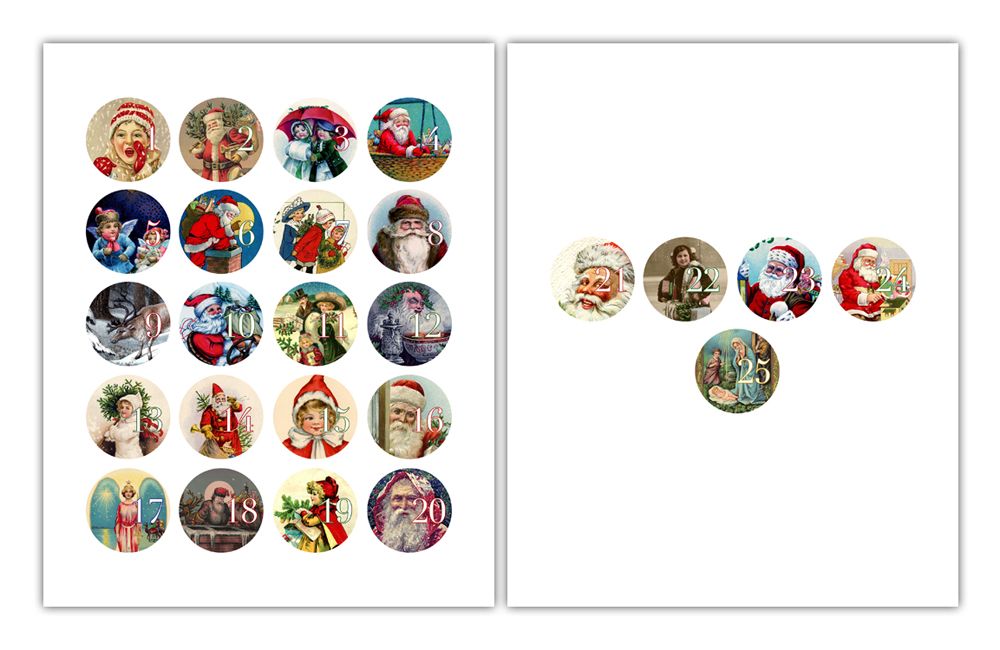 Sheet One (with numbers)
Sheet One (without numbers)
Sheet Two (with numbers)
Sheet Two (without numbers)



*This post contains affiliate links